Cleaning pad business just scratching the surface when it comes to growth
Twelve months ago Harry Green, decided it was time to sell his cleaning pad business in Leicester. After all, he was 95, maybe it was time to close the business! However, neighbours Priyesh, Amit and Niraj Mandalia, inspired by Harry's character and business ethos decided to take it on. As Harry approaches his 97th birthday, Silver Lady Cleaning Products has been given a new lease on life. Already an international business, it is now on a mission to go digital, become sustainable and conquer the UK.
Silver Lady Cleaning manufactures non-scratch scourers and pads under the brand name Miracle Cleaner. With a background originally in knitwear that spans over 100 years, the third generation of Harry's family works in the business today. The Mandalia brothers are garment manufacturers and had a unit above Harry's for 10 years. They now own Silver Lady Cleaning along with Harry, who is still very much a part of the business. Mum, Jayshree and dad Chiman Mandalia are also part of the Silver Lady team and work in the business.
Priyesh Mandalia explains: "Harry has a wealth of knowledge and experience. We bought the business, asked him to continue working with us for as long as he wanted and made him a shareholder. He's a phenomenal guy with a great mind and work ethic. He was going to close the business and it would have been a shame to let that all go."
Currently the business export to New Zealand, South Africa and Spain. Products are manufactured on unique machines built by Harry, with many parts taken from old knitwear machines. As well as scouring pads, new lines have been introduced such as dishcloths in microfibre and swede.
Priyesh described how this year they've spent time finding ways to lower their carbon footprint and be more sustainable. Silver Lady has swapped its product header cards to recycled paper and uses disposable cotton to stitch the pads together.  Work is also currently underway with De Montfort University to make their sponges bacteria-free. If they succeed, the sponges could then be reused in playgrounds for example or bouncy castle pits.
The outside of the sponge is lurex and plastic coated. If they can take the plastic out, the lurex will also be completely recyclable. The business also sources locally or within the UK and all their products go by ship to international customers.  All these measures help reduce their carbon footprint and support their journey to becoming a sustainable business.
Despite its international success, Silver Lady doesn't have any UK customers. Priyesh said: "We sell about 12,000 pieces each month to New Zealand but nothing here. I'd say one of our main challenges is exposure. We don't know who to target or which doors we should be knocking on but I know we want to expand."
While searching on the internet for advice and funding he came across the Business Gateway Growth Hub. Priyesh continued: "We were contacted by Russ Pacey following our initial enquiry. We had an amazing conversation about Harry, our plans to grow in the UK and what help might be available. Our timing must have been spot on as just that week a new £2,500* business support grant had opened, which Russ talked through. We applied straight away for funding to help with marketing support."
Priyesh comments: "We want to expand because we love this product and want to share it. Harry is a shrewd businessman and has built a unique product with longevity. He's such an inspiration and makes us want to do better. The possibilities are endless."
Harry added: "This has given me a new lease on life and I'm learning lots of things. I've joined the Mandalia brothers to bring our product to the local market and I'm excited to see where the business goes with our combined experience and backgrounds."
Russ Pacey, Business Adviser Manager said: "This is a fantastic story transcending barriers of background, age, culture and experience. People working together with a common goal.
"I'm pleased I was able to signpost the grant. This kind of one-off grant or support programme pop up from time to time so it's always worth staying in touch with the Business Gateway."
*This grant has now been fully allocated and is closed for applications.
Images by Beth Walsh Photography.
---
Picture captions: Top right: Some of the Silver Lady team and their products: Back: l-r: Amit, Chiman, Jayshree and Priyesh Mandalia. Front: Harry Green
Harry Green 96, sets up one of his inventions that makes scouring pads using lurex thread and recycled cotton.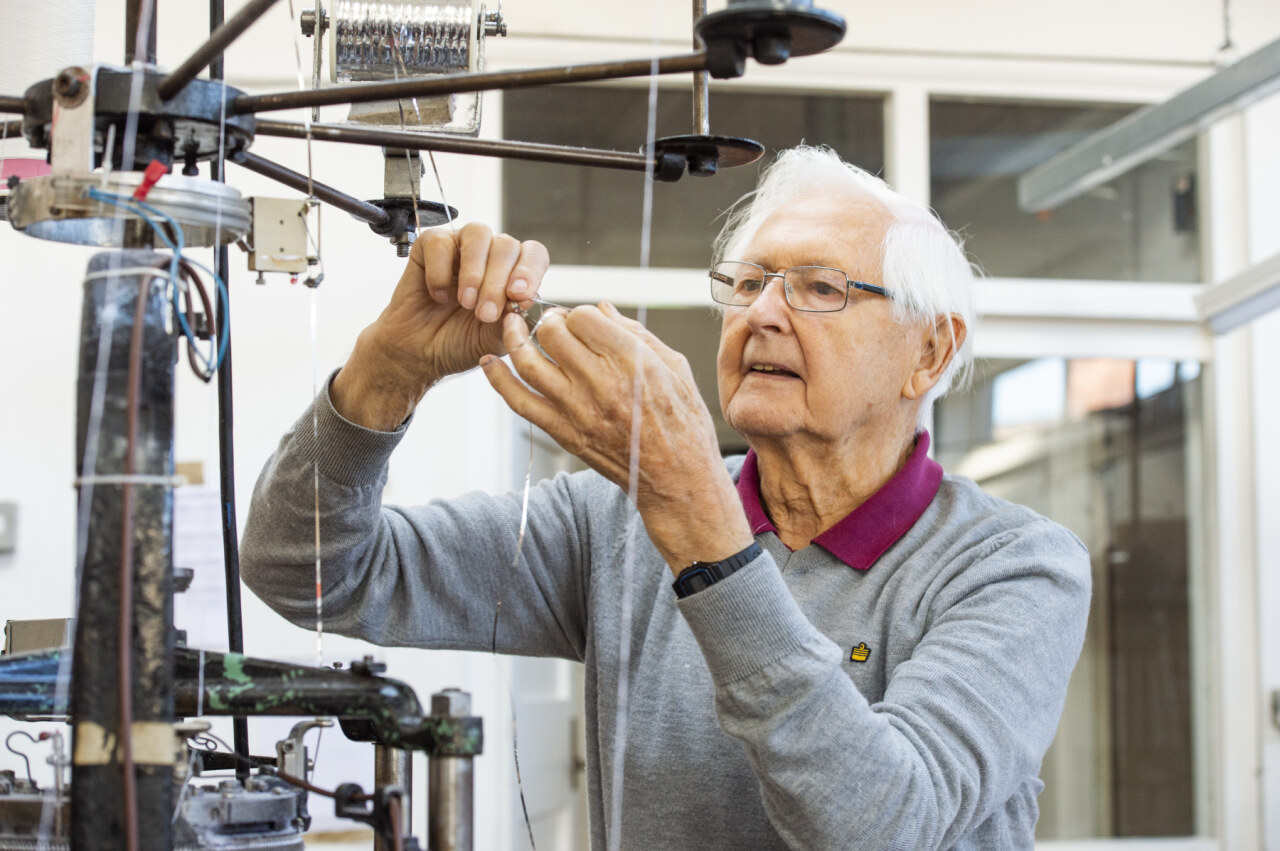 Priyesh Mandalia and Harry examine the cloth as it comes off the machine. This will be cut down into smaller pieces.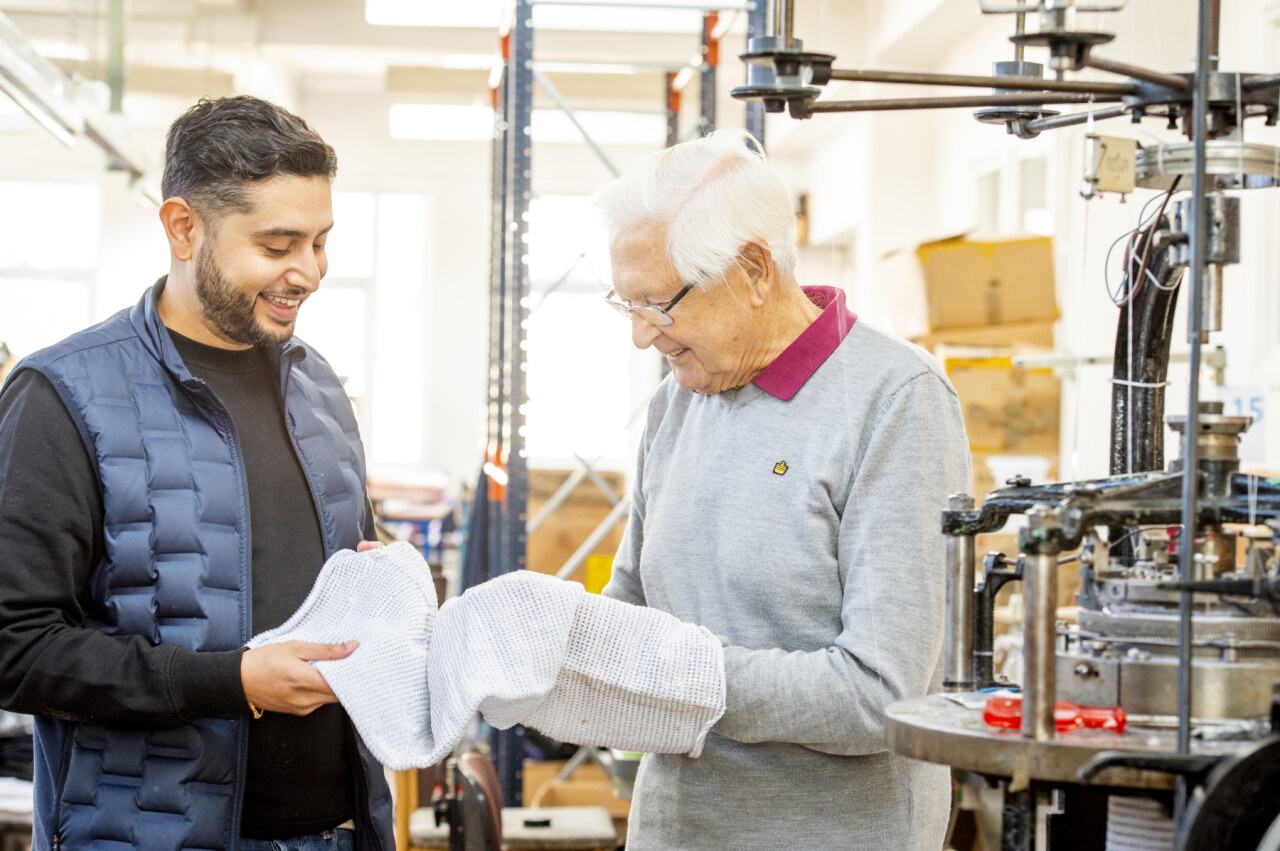 Jayshree Mandalia threading one of the smaller cleaning pad machines, also created by Harry.