Search for our region's innovators is on!
12 November 2019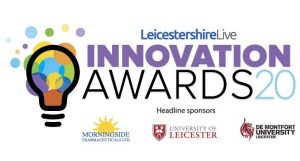 There is no shortage of talent, ideas and innovation in Leicestershire.
Inventors in the county are thriving are a result of their own creations – just ask the innovators behind HedKayse.
The ground-breaking company was created by two former Loughborough University students who saw a gap in the world of cycling for a safer, more efficient bicycle helmet. They even created their own material called Enkayse which gives their newest product, the HedKayse One, it's durability.
Producers from BBC 2's Dragon's Den spotted potential in the Loughborough-based business and invited them to pitch their creation on the reality show watched by millions.
And their creation attracted offers from both Deborah Meaden and Tej Lalvani – which incredibly these young entrepreneurs turned down.
Leicestershire is full of individuals, firms and universities brimming with revolutionary ideas just like the one realised by the creators of HedKayse.
And that's why the Leicestershire Live Innovation awards are so important.
This year the Business Gateway Growth Hub is sponsoring the Innovation in Services award.
Read the full story on Leicestershire Live
More details on the awards and entry criteria here for our region.