Over 300 local firms benefited from Collaborate support
9 September 2019
Leicester City Mayor, Peter Soulsby welcomed over 120 business people to the King Power Stadium last week as Collaborate for Growth, the Leicestershire business support project, celebrated supporting hundreds of local businesses. The event provided inspiration and information to local businesses including an exhibition of support providers, client stalls and case studies.
Collaborate has successfully provided business support, capital grants and an inward investment service to small and medium-sized enterprises (SMEs) over the last three years. It is funded by the European Regional Development Fund and partners Leicester City Council, Leicestershire County Council, East Midlands Chamber (Derbyshire, Nottinghamshire, Leicestershire) and the Food and Drink Forum.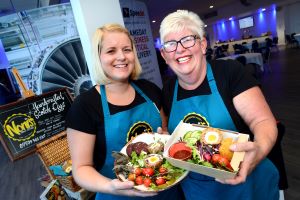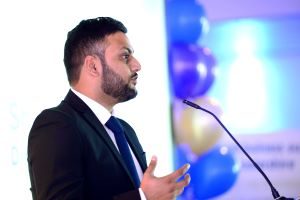 Shiraz Sidat, Director at Leicester-based courier, Speedel outlined how the project had helped the business forecast more efficiently resulting in a 100 per cent increase in turnover. While Carl Bown, Managing Director of Charles Blyth & Co, manufacturer of pocket springs for mattresses said a Collaborate grant of £16,734 – used to buy new machinery – had resulted in the creation of a new department and helped increase capacity by 13.9 per cent.
Entrepreneur, Jack Romero talked about his unbelievable journey of self-belief and an unwavering passion for aviation which saw him realised his dream of being a pilot and after much hardship start an international airline from scratch, BMED British Mediterranean Airways at Heathrow Airport.
Collaborate has provided 360 business with information, advice or guidance, given 2,760 hours of intensive business support to 230 SMEs, run approximately 181 workshops with 1,950 delegates and leveraged £2.4 million in private sector investment. The project has also awarded £1.2 million in grants to businesses from a variety of sectors. A video showing some of the recipients of support was premiered at the event – click here to view.
Though Collaborate ends as an individual project on 30 September the Business Gateway Growth Hub will continue providing one-to-one advice, presentations and workshop, as well as a grant for capital projects.
Kevin Harris, chair of the Leicester and Leicestershire Enterprise Partnership (LLEP) provided closing remarks at the celebration. He said: "Following a successful bid to the European Regional Development Fund we have secured a further £7.8 million for a delivery project which enables the Business Gateway Growth Hub to continue a variety of support to local businesses and add enhanced services to the offer.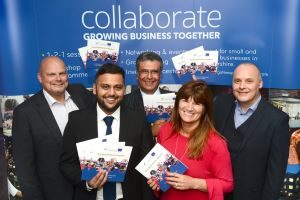 "The Growth Hub will offer Business Growth Grants from October enabling eligible businesses to apply for a share of the £1.4 million pot of grant funding for capital projects ranging from £2,000 to £25,000 at 35% of the project cost."
Companies interested in the grant can contact the Business Gateway Information Team for an expression of interest form on 0116 366 8487. Alternatively please subscribe here to be kept inform about this grant and enhanced Business Gateway Growth Hub service.