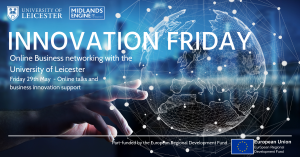 You are invited to 'Innovation Friday'! Via webinar you can engage with the speakers on the day and also with the Leicester Innovation Hub Team and get an update on how we can help you.
Innovation Friday is an opportunity to bring together a business innovation community, including business leaders, world class experts, innovation funders as well as routes to partnership with the University of Leicester's Innovation Hub.
Agenda: Innovation in a Time of Crisis
10-11am: Current Innovate UK Support for Innovative and Research Intensive Businesses. Julian Bowrey, Regional Manager for E and SE Midlands, Innovate UK
12noon-1pm: Health Innovation. Dr Lucy Alexander, Life Sciences Accelerator
2-3pm: Embracing Agility. Dr Nicola Bateman and Dr Matthew Higgins, University of Leicester Shool of Business.
Please note that instructions to join the webinars will be sent to you in due course.