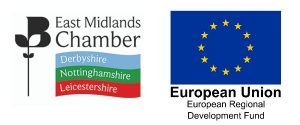 Are you a business owner or a member of your organisation's marketing team? Would you like to learn how to make a greater impact with using Social Media and improve your knowledge of strategies that could result in better web traffic, leads and sales conversions? If you would, this is definitely a webinar you shouldn't miss.
Most businesses understand the potential Social Media offers. It can be a powerful tool for creating awareness and driving engagement, but it can also be a crowded and noisy channel too. The key question is: How do you ensure that your message is seen and paid attention to? How do you stop people from simply scrolling past? In this webinar, we'll look at different strategies you can use, to ensure your content stops audiences in their tracks and gets noticed and the functions available within various platforms, that will help you generate leads and fuel your sales pipeline.
Who should attend this webinar?
Whether you're a business owner, or a marketeer who plays an active role in promoting your organisation online, if you're using Social Media this webinar is a must if you'd like to make it work harder for your business.
What will we cover?
Understanding how Social Media has changed to become an overcrowded marketplace and what you can do to be heard above the noise.
Identifying key objectives when using Social Media for your business.
Weighing up algorithms; are they your friend or foe?
Looking at which content types are currently gaining traction.
Deploying key strategies for starting conversations on Social Media
Understanding why every business needs to consider a budget for Social Media advertising.
What outcomes can you expect from joining us?
You'll leave this webinar with enhanced Social Media skills including:
Expert knowledge of how to improve engagement with your target audience.
A better understanding of the tools features available to help you generate and convert more leads.
A clearer view of the options available to your business to make informed decisions and improve your effectiveness on social platforms.
A strategy you can implement as soon as you're back in your business.
Here's how simple it is to book your place
This online webinar has limited places and priority will be given to those businesses who have accessed less than 12 hours of support through the programme and they are trading SMEs based in Leicester and Leicestershire.
This webinar will be delivered via 'Go to Webinars'. To attend this fully-funded event, your organisation must be registered and verified as eligible to receive support through the Digital Growth Programme. If you're not already registered, you can do this now: http://www.ebusinessclub.biz/register
Once you are registered onto the programme you can book your place onto our webinars and workshops. Please note we can only accommodate one delegate per organisation.
If you have any questions, just contact your dedicated Events & Engagement Officer.
This webinar is delivered by the East Midlands Chamber's Digital Growth Programme team and Hinckley and Bosworth Borough Council. The programme is part-funded by the European Regional Development Fund, East Midlands Chamber and Leicestershire County Council.