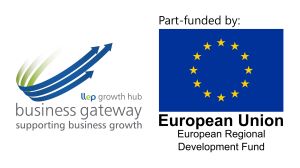 Ethical and social compliance: practical steps to achieve and be rewarded for good business practice.
Do you have an apparel manufacturing business? Are you increasingly being asked by your customers to demonstrate ethical and social compliance?
Sign up to this 4-part programme with experts from Fast Forward to guide you through the business case, practical steps and create a personalised action plan to embed ethical and social compliance in your business. 
Please note: you should attend all 4 sessions.
Demonstrating your business's commitment to ethical and social compliance has never been more important. External scrutiny of UK apparel and textile manufacturing has never been greater, and factories are increasingly recognising the importance of ethical and social compliance to winning business and having a productive and engaged workforce.
The Business Gateway Growth Hub has developed this programme of support, in partnership with AllianceHR (FAST FORWARD). Join us for this free to attend, 4-part support programme to help embed ethical and social compliance in your business comprising:
1 x 3-hour introductory webinar:
Thursday 15 April 2021, 09:30 – 12:30
3 x follow-up virtual and interactive support sessions:
Tuesday 11 May 2021, 10:00 – 11:30
Tuesday 1 June 2021, 10:00 – 11:30
Tuesday 6 July 2021, 10:00 – 11:30
Delivered by ethical and social compliance experts, Fast Forward, the sessions will be practically focussed, share case studies and insights from fellow manufacturers and support businesses to devise their own action plans to continuously improve and reap the business benefits of ethical and social compliance.
Who should attend this webinar?
This programme is aimed at apparel and textile manufacturers who would like to develop and ensure legal and ethical compliance is embedded in their business. In order to maximise the benefits from this programme. It is suggested that senior management and/or their representative responsible for legal and ethical compliance should attend.
What will we cover?
3-hour introductory webinar:
The importance of social and ethical compliance to your business
Ethical auditing and improvement programmes
Core standards required in an ethical and social audit
Managing your risks and Covid-19
The importance of management systems
Case studies of UK manufacturers that have benefitted from implementing ethical and social compliance
Analysing any gaps and setting a 12-month action plan
3 x 1.5 follow-up virtual and interactive support sessions:
Further guidance on a focussed topic e.g. equal opportunity
Collaborative discussion to share peer-to-peer challenges and best practices
Share progress on action plans and seek advice from the experts
What outcomes can you expect from joining us?
After attending the series of this support, you will have:
A personalised 12-month action plan to implement your own improvement programme in your business
A checklist of policies, processes and systems required to evidence ethical and social compliance
Ongoing support through the 3xadvisory sessions – to support your actions and receive further guidance on next steps
A better understanding of how a management systems approach can help to embed social compliance standards in your business.
Increased knowledge of relevant legal and ethical compliance standards
These are interactive, action planning online workshops. You will leave these sessions with handouts and a practical action plan which can be implemented within your business. Where possible, we would like to encourage you to join this session with your video camera turned on and when instructed by the facilitator, you may un-mute your microphone to take full advantage of the interactive nature of the workshop. 
Who'll be presenting this webinar?
Hannah Newcomb – Fast Forward Managing Director and an experienced trainer, having delivered 100s of hours of training on social compliance and modern slavery across the country and online to UK manufacturers and labour providers representing a diverse range of communities.
Natasha Staddon – Fast Forward Programme Manager With a background in ethical compliance from large global brands to small-scale production, Natasha's in-depth experience of supply-chain challenges – from beginning to end of product – allows her to support businesses through the complex needs and requirements of ethical production with empathy and objectivity.
These presentations are delivered in partnership with Business Gateway Growth Hub and AllianceHr and are part-funded by the European Regional Development Fund. Places are limited and priority will be given to trading Fashion and Textiles SMEs based in Leicester and Leicestershire.