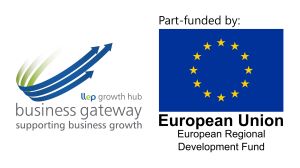 Employing people with the right skills, managing and retaining staff is often one of the biggest challenges for SMEs, across all sectors. In the fashion and textiles industry, it is also a challenge to ensure that the business is not only complying with the current law but exceeding the ethical and social standards required by the retailers and brands that they are working with.
The legal landscape is complex and constantly changing. The non-compliance to standards expected by the brands/retailers and their auditors could pose reputational and financial risks and could lead to loss of orders and ultimately business closure. Introduction
The Business Gateway Growth Hub has developed a series of 3 interactive webinars, in partnership with Resilient World Solutions (RWS). The webinars will be focusing on various aspects of employment Life Cycle relevant to fashion and textiles sector, including;
Recruitment & Selections – Embedding the right practices
Managing Contracts – Record keeping and compliance to legal and audit requirement
Managing staff – Performance, absences, grievances and discipline
Key HR Policies and Procedures – Ensuring fairness and minimising the reputation and financial risk
Linking with Ethical and Social Compliance
Webinar 1 – Fashion and Textiles: Employing People – Recruitment & Selection – Thursday 29 April 2021, 10:00 – 13:00
Webinar 2 – Fashion and Textiles: Employing People – Compliance – Tuesday 25 May 2021, 10:00 – 13:00
Webinar 3 – Fashion and Textiles: Employing People – Capability & Connecting – Tuesday 22 June 2021, 10:00 – 13:00
Please note: to get the most of these sessions you should attend all 3 dates.
Who should attend these webinars?
This webinar is aimed at business owners, managers, supervisors and staff with HR responsibility in the Fashion and Textiles Industry.
What will we cover in webinar 1?
Planning your staffing needs
What Skills do I need for my business?
Changing labour markets
The Equality Act and recruitment
Developing job descriptions
Recruiting via social media
Selecting the best candidate
Alternative methods for selection
Unconscious bias
Checking references and qualifications
Onboarding a new employee
What outcomes can you expect from joining us?
After attending these 3 sessions, you will:
Have an understanding of legal compliance when employing people
Have some tips for managing people more effectively
Understand key policies to get the best out of people
Have some fun learning about people
Recruitment and Selection of Staff
Equality Act & Unconscious Bias
Checking references, qualifications and right to work
Onboarding of a new employee
Contracts of Employment
Data Management
Working Time Regulations
Key Policies inc Discipline and Grievance, Absence and Family-Friendly Policies
Managing Performance
These are interactive, action planning online workshops. You will leave these sessions with handouts and a practical action plan which can be implemented within your business. Where possible, we would like to encourage you to join this session with your video camera turned on and when instructed by the facilitator, you may un-mute your microphone to take full advantage of the interactive nature of the workshop. 
Who'll be presenting this webinar?
The webinars will be presented by Debra Cadman, on behalf of RWS. Debra has over 30 years of experience in human resources working as a senior HR practitioner, providing guidance and leadership to senior executives and managers. Debra is the owner of Cadman HR who works with a variety of SME businesses in multiple sectors including construction; manufacturing; distribution; oil and gas ensuring that they have the right policies in place to meet their business aims ensuring compliance and more strategic HR input.
These presentations are delivered in partnership with Business Gateway Growth Hub and Resilient World Solutions and are part-funded by the European Regional Development Fund. Places are limited and priority will be given to trading Fashion and Textiles SMEs based in Leicester and Leicestershire.