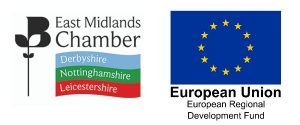 5 Week Programme – Action Planning Workshops
Do you want to grow your business and need help getting started with digital marketing?
If your business is in the first 12 months of trading then join us for this five-week start-up programme to create an online presence, get you found and build your customer base.
Digital Marketing presents businesses with more opportunities to get found, drive sales, and retain customers but getting started can be challenging when you're starting a new business.
Sign up to this five-week programme where we'll guide you through each stage of a digital marketing strategy to get your business online.
Each session is tailored to take you on a journey, starting with creating a visual identity and social media presence, building a website and being found on search engines, and creating a marketing database for maintaining customer relationships.
Who should attend these workshop?
This five-part workshop programme is aimed at new businesses who want to create an online presence and introduce digital marketing to help increase growth.
To take part in this programme your business will need to:
be located in Leicester and Leicestershire
be trading less than 12 months
complete the programme's SME Enrolment form*
What will we cover?
Each session will run once a week from 1pm – 4pm for five weeks, starting on 15 June and finishing on 13 July 2021.

Week 1 – Visual Marketing and Social Media: Helping businesses claim their identities online and create a basic set of brand assets ready for use on social media, a website, email and elsewhere.
Week 2 – Creating a No-Code Website: Build your first website without requiring a developer. Using the elements they took from the first session, participants should be able to build a simple website with the basic pages required to get your business online.
Week 3 – Getting people to your Website: How to make sure your new website is added to search engines and how to manage your business on Google Maps/Google My Business so customers can find you.
Week 4 – Using Advertising to reach new audiences: Taking some of the elements from the previous week's, you will learn the basics of using Facebook advertising and Google AdWords as a low-cost way to promote your business to attract new clients.
Week 5 – Using Email Marketing to keep customers returning: Now that you have a website and the tools to start generating enquires, it's time to introduce email marketing into your marketing mix to keep customers informed and returning to your business.
What outcomes can you expect from joining us?
After attending this series of workshops, you will:
know how to get your brand online and promote your business across Social Media
be able to create a Website
improve visibility of your Website and be found online
learn how to attract new clients using Paid Digital Advertising
know how to get started with Email Marketing
To attend this fully-funded event, your organisation must be registered and verified as eligible to receive support through the Digital Growth Programme. If you're not already registered, you can do this now: http://www.ebusinessclub.biz/register

The workshop within this five-week series are delivered by the East Midlands Chamber's Digital Growth Programme team and are part-funded by the European Regional Development Fund, East Midlands Chamber and Leicestershire County Council.
*As places are limited only one delegate per organisation will be accepted onto this workshop series and priority will be given to those businesses who have accessed less than 12 hours of support through the programme.