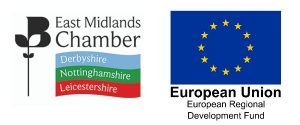 Two-Part Action Planning Workshop
Are you looking at moving your business online, allowing customers to purchase your products or services directly from your website? Or do you currently have an ecommerce website that needs improvement? If the answer is yes, then join expert Rob Gregory to learn how to develop a profitable ecommerce website.
The draw of ecommerce is undeniable. The dream of sitting on the beach watching your sales come in, knowing the team back home is taking care of fulfilment whilst you sip on your favourite drink in the sun is one most of us would be happy with. The reality is usually a little different to that.
Ecommerce, just like any business, is rarely a get rich quick scheme. Moreover, it can be a lot of hard work, however the rewards can be fantastic too so don't be put off. Planning and execution is key to the success of an online business and in this two-part workshop we'll work through the necessary steps it takes to develop a profitable ecommerce website. It's relatively easy to get started selling online however making that business a profitable one requires careful planning and precision execution. Having an action plan to work through certainly helps with that planning.
By the end of this two-part workshop, you will have a clear understanding of what it takes to plan and launch a profitable ecommerce website.
Who should attend this online workshop? 
Anyone within an organisation looking to either redevelop or develop an ecommerce. There is no need to be technical or even have made a decision on which tools and platforms you are going to adopt. This workshop will take delegates on a journey from the planning stages to launching an ecommerce site in easy to digest steps.
What will we cover?
What is ecommerce – overview of ecommerce, its origins, options for selling online and how to integrate ecommerce into an existing business
Should I be selling online? – an honest look at your business model and do the numbers stack up. Ecommerce isn't guaranteed to work so how can you test the market before investing heavily in ecommerce?
Ecommerce goals – what do we want to achieve with our ecommerce website and how do we plan to get there? Anatomy of an ecommerce website – what are the component parts of an ecommerce website, how do they interact and how can we make good decisions about how to build an ecommerce website that delivers on our goals
Design and User Experience(UX) for ecommerce – Define user personas, user journeys and look into the utility, usability and performance areas of our new ecommerce site Functionality and features – websites can do many things. However, the more things a website does the more you have to build, maintain and think about. Amazon has a huge amount of features but that's probably not right for your business. Let's look at the options and select the features your personas need and that will increase conversions on your site
Build options and Technical considerations – Self-build, agency or platform/marketplace…what are the options, costs and timescales involved with each approach and ultimately which is the right choice for your business. We'll look at Shopify and WooCommerce in a little more detail. Also, what are the technical things we need to consider i.e. domain names, hosting and fulfilment partners
Looking after your site once it's live – Your website is never finished, in fact it's an ever-changing set of experiments. Learn how to keep a check on your website and optimise it over time. A few tips on what to do with old product pages and out of stock items too
What outcomes can you expect from joining us? 
After attending this workshop, you will:
Have a clearer understanding of how to plan and approach building a profitable ecommerce website
Be armed with an action plan to start the process of developing an ecommerce site with confidence
This is an interactive, action planning online workshop. You will leave this session with handouts and a practical action plan which can be implemented within your business. Where possible, we would like to encourage you to join this session with your video camera turned on and when instructed by the facilitator, you may un-mute your microphone to take full advantage of the interactive nature of the workshop. For the best user experience, we recommend joining the workshop using Chrome or Firefox as your web browser.
This workshop will be delivered via 'Go To Training'. Part one will be delivered on 7 July and Part two will be delivered on 14 July.
Here's how simple it is to book your place?
This online workshop has limited places and priority will be given to those businesses who have accessed less than 12 hours of support through the programme and they are trading SMEs based in Leicester and Leicestershire.
This workshop will be delivered via 'Go To Training'. To attend this fully-funded event, your organisation must be registered and verified as eligible to receive support through the Digital Growth Programme. If you're not already registered, you can do this now: http://www.ebusinessclub.biz/register

Once you are registered onto the programme you can book your place onto our webinars and workshops. Please note we can only accommodate one delegate per organisation on this webinar.
To register for a place all you need to do is complete our booking form. It's quick and easy and if you have any questions, just contact your dedicated Events & Engagement Officer.
This webinar is delivered by the East Midlands Chamber's Digital Growth Programme team and is part-funded by the European Regional Development Fund, East Midlands Chamber and Leicestershire County Council.