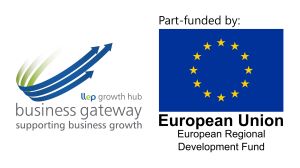 A Network of Peer Support for your Microbusiness 
Most of the clients we support at the Business Gateway are microbusinesses with 5 or fewer staff.  So we know that it can be tough to develop your business when your time and resources are so limited.  It can also be lonely if you're trying to lead your business and feel that no one else understands what you're going through.  That's why we've created the Microbusiness Peer Network with these seven events at the heart of it.  As well as the seven practical sessions, we will keep in touch with you between sessions to help you think about your challenges alongside other business owners just like you.  Peer Networks have proven to be highly effective at supporting businesses and we know that you will benefit from this approach, if you commit your time to it.  Please book for all seven sessions.  That way, if you can't attend an event, we will be able to share videos and notes to keep you up to date until you can rejoin us.
About this Session
There are lots of different ways to prototype your product ideas and many of them are free or very cheap.  Here we'll look at how to do this and also why it's important.
What we will cover
In this third session, we will focus on prototyping – how to do it and why. We will:
show you different types of prototypes that are free or cheap and easy to develop
help you understand the importance of prototyping cheaply to avoid costly mistakes.
You will leave the session with the outline of a prototype that you can develop and potentially test with your customers.
Big Ideas for your micro business: book all sessions using these links or email jay.lad@bizgateway.org.uk 
About the session leaders
Lead Facilitator Carl Quinn is an accomplished designer and developer of projects, programmes and services, especially in the education sector. He is a passionate believer in empowering others to make a change in their own lives, their organisations, and their communities. Putting people at the heart of developing new products and services is the best way to create positive, sustainable impact which aids continual growth.
An expert facilitator and collaborator, Carl can help identify needs and co-produce and test solutions. His approach is to work with others in partnership, to build a reciprocal relationship that results in all parties teaching and learning from one another. Always seeking opportunities to challenge the status quo and creating a positive change.
Carl works closely with the local micro and small-enterprise community and has supported delivery of various projects to support them through both of the city universities. He also has close links with Leicester Start-ups and a range of start-up and co-working communities, including DOCK and LCB Depot in Leicester.
Co-Facilitator Lindsey Newman-Wood is a results-driven innovation and marketing consultant, facilitator, coach and speaker and is passionate about running exciting and engaging workshops that are practical, 'jargon free' and fun!
This workshop is aimed ideally at microbusinesses with 1-5 employees as a target audience and based within Leicester and Leicestershire. Delegates are made to feel welcome and encouraged to network and share their experiences with others.