At a Glance: What the latest Government Covid briefing means for businesses in Leicestershire
23 February 2021
The Prime Minister's latest COVID briefing (22/2/21) brought signs of some good news for regional businesses.  Here are the key points that affect your business in Leicester and Leicestershire:
STEP 1
From 8 March, schools, colleges and universities will reopen as well as childcare (nurseries and creches) and supervised activities for children.  This means no more home-schooling.
From 29 March, when schools break up for Easter, outdoor sports facilities (tennis and basketball and open-air swimming pools) can reopen along with formally organised outdoor sports.  The 'stay at home' rule will also end on that date meaning customers will be out and about once again.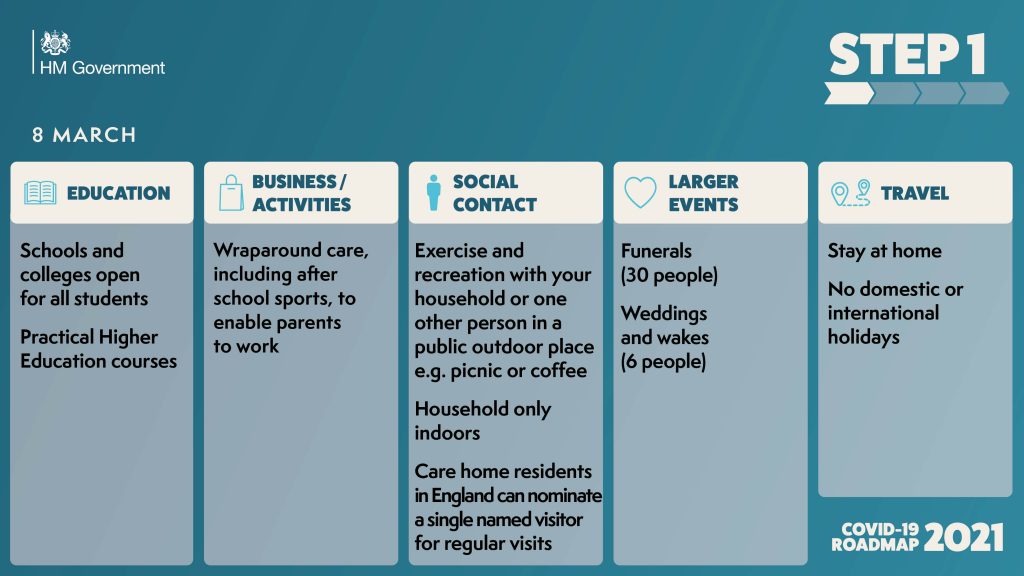 STEP 2
From 12 April at the earliest, non-essential retail will reopen.  This includes hairdressers, nail salons and other personal care premises (spas etc). Gyms will reopen and so will libraries and community centres.  Most outdoor attractions will also reopen including zoos, theme parks, drive-in cinemas and other outdoor hospitality venues.  Some campsites and holiday lets (where facilities are not shared) can also reopen then.
Good news for hospitality venues including pubs: you will be allowed to serve people outdoors in Step 2 and customers will no longer need to order a substantial meal if they want an alcoholic drink.  The curfew will be removed although customers will have to keep to the 'table service' approach where they stay seated when they order, eat or drink.
Maximum numbers for funerals will remain at 30 but the maximum number for weddings, receptions and wakes rises to 15.
STEP 3  
From 17 May at the earliest, Step 3 will come in, meaning that most businesses in all but the highest risk sectors will be able to reopen. In all sectors, COVID-Secure guidance will remain in place so businesses will not be allowed to cater for groups bigger than the legal limits.
Indoor hospitality will reopen with the same rules as in Step 2.
Step 3 will also see other indoor locations opening up including indoor entertainment venues like cinemas and children's play areas, indoor adult group sports and exercise classes.  The rest of the accommodation sector, including hotels, hostels and B&Bs will reopen then too.
The government will also allow some larger performances and sporting events in indoor venues with a capacity of 1,000 people.  The maximum limit for weddings, receptions and wakes will rise to 30.
Finally, on 21 June, the Government hopes to introduce Step 4 to remove all legal limits on social contact. 
Jon Egley, Growth Hub Manager, commented: "Now's the time to think about gearing up to restart your businesses so that you can maximise on the easing of restrictions.  Customers should be keen to return to shopping and eating out but some may be cautious so businesses should think about how they're going to capture their share of the much-needed spend.  Your business would benefit from thinking about which marketing approaches to use to attract and retain customers who haven't been able to spend for a while.  Loyalty schemes and discounts could be very effective.
"Some businesses may need to consider how they're going to manage staff returning to work as well as perhaps refreshing themselves on customer service and day to day business processes.
"Now is also a great time to find out more about digital marketing and how it can be a cost-effective way of reaching your target market.
"At the Growth Hub, our business advisers can help you with all of these questions and their expert advice is at no cost to your business. We have also developed a comprehensive programme of webinars and action-planning workshops so business owners and their teams can learn and improve their skills to help the restart and recovery process.
"We're here to support businesses to get back on their feet so please get in touch now so that together we can give you the best chance of success."
Call the Growth Hub on 0116 366 8487, email growthub@bizgateway.org.uk or complete the enquiry form below.
You can find the full Government briefing document here.